GPL-11 on CREDAI Ahmedabad GIHED
Auction of players was held for 11th CREDAI Ahmedabad GIHED Premier League-2021 at CREDAI Ahmedabad GIHED Bhavan.
Lets watch GPL matches live. GPL-11 @ Karnavati Club. Dates 2 to 13 January -2021.
CREDAI Ahmedabad GIHED CONVERSE : Topic#3 - Water Conservation & It's Optimal & Efficient Usage
CREDAI Ahmedabad GIHED initiates Real Estate Converse - A Platform to Discuss, Debate & Determine the Future of the Real Estate Industry.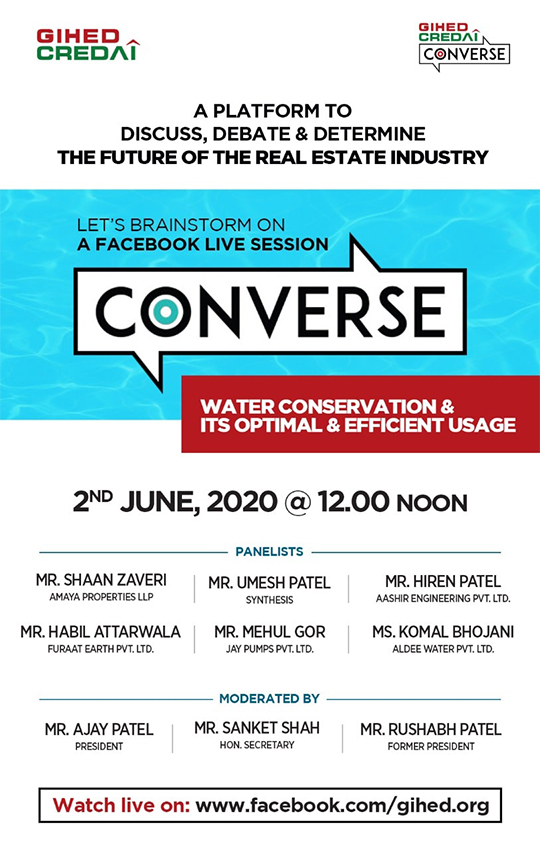 CREDAI Ahmedabad GIHED members at "Namaste Trump" Road Show
Over 6000 Executive & staff of CREDAI Ahmedabad GIHED members have actively participated in "Namaste Trump" Road Show at cantonment area and welcome the dignitaries.
Winner of 10th CREDAI Ahmedabad GIHED Premier League - 2020
Have a glimpse of the winners of the 10th CREDAI Ahmedabad GIHED Premier League - 2020 and immerse in the excitement of passion of cricket.
10th CREDAI Ahmedabad GIHED Premier League-2020
Auction of players was held for 10th CREDAI Ahmedabad GIHED Premier League-2020 at CREDAI Ahmedabad GIHED Bhavan. More than 110 Developers divided in 8 teams will be playing during 2nd to 12th January 2020 at Karnavati Club.
CREDAI Ahmedabad GIHED Channel Partner Meet organized on 28th December 2019
1st ever Channel Partner Meet hosted by CREDAI Ahmedabad GIHED at Uni. Conv. Center in the City. More than 500 Brokers, Consultant, Members of ARA along with huge number of Developers of CREDAI Ahmedabad GIHED actively participated.
During the Panel discussion conducted by Mr. Ankur Desai- Director with Mr. Shekhar Patel- CREDAI National Vice President, Mr. Ajay Patel, President, Mr. Sanket Shah-Hon Secretary & Mr. Viral Shah- Hon. Treasurer, Mr Rajesh Vaswani - Director, Mr. Nishit Shah- President ARA, Mr Keyur Panchal, Mr Apurva Shah, Mr. Jigar Shah- Knight Frank, Mr Anand Choksi of TREC, suggestions were received for the formation of specific forum where one can easily exchange ideas and resolve the queries. It was unanimously decided to kick off for the awareness and start the "Brand Ahmedabad 2020" movement under the leadership of CREDAI Ahmedabad GIHED & ARA.
CREDAI Ahmedabad GIHED YOUTH TEAM 2019-21
Taral Shah - President
Saumil Purohit - Vice President
Hitesh Patel - Secretary
Yash Shah - Treasurer
Shivarsh Patel - Jt. Secretary, Kandarp Patel - Jt. Secretary
Saket Agrawal - Jt. Treasurer, Sneh Zaveri - Jt. Treasurer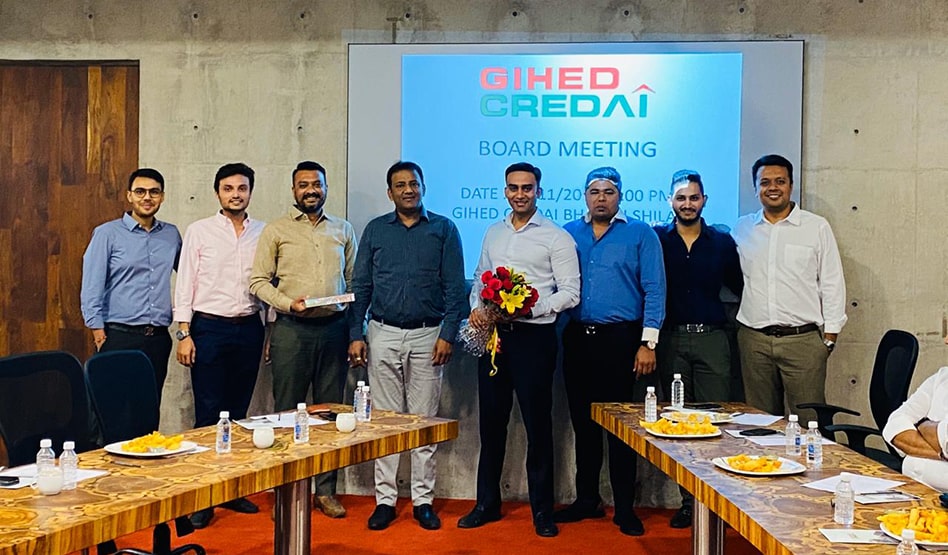 Study tour by CREDAI Trichirappalli
CREDAI Trichirappalli organized its study tour for Ahmedabad and to update their developers about the impact of CGDCR on Affordable Housing Projects Technical session was organized at CREDAI Ahmedabad GIHED Bhavan. Detailed interaction with the delegates of Triuchirappalli and young entrepreneurs of the city was made with Mr. V.D. Vaghela, OSD & Deputy Secretary, UDD and Mr. Sandip Sheth-Chairman, Mr. Ashish Patel-President of CREDAI GUJARAT, Mr. Ajay Patel-President, CREDAI Ahmedabad GIHED Mr. Kinjal Patel- Hon. Secretary CREDAI GUJARAT & V.P. CREDAI Ahmedabad GIHED, Mr. Sharvil Shridhar- Hon Jt. Treasurer and Mr. Aalap Patel. Mr. S. Anand- President, CREDAI Triuchirappalli conveyed his gratitude to both the teams for the generosity.
Swachh Sabarmati Mahaabhiyan 2019
"Swachh Sabarmati Mahaabhiyan" co-initiated by CREDAI Ahmedabad GIHED & Ahmedabad Municipal Corporation, between Subhash bridge and Rly bridge River front. Approx. 300 developers with their staff & more than 5000 labours have actively participated.
To motivate us, Shri Vijay Nehra-Muni. Commissioner, Smt. Bijalben Patel - Mayor, Senior officials from AMC also joined us. Large number of citizens also involved themselves in this awareness program.
Let's together ensure a clean & pollution free Sabarmati Riverfront.
Recent Amendments in GST for Real Estate Sector
Seminar on "Recent Amendments in GST for Real Estate Sector" organized at CREDAI Ahmedabad GIHED. Chief Guest- Dr. P.D. Vaghela-IAS, Chief Commissioner of State Tax, Gujarat, Guest of Honor- Mr. Jaxay Shah, Chairman, CREDAI National, Keynote Speaker: C. A. Rahul Patel, GST Expert, Partner P.M. Patel & Co. & Mr. Riddhesh Raval Dy. Commissioner, GST, shared their views with more than 250 members.
Open forum on Online N.A. Permission & Land Reforms and Revenue Laws organized by GIHED-CREDAI & CREDAI Gujarat at GIHED House, Ahmedabad on 05th February 2019.
Shri Kaushikbhai Patel, Hon. Minister, Revenue Department, Gujarat State, Shri Pankajkumar-IAS, Additional Chief Secretary, Revenue Department, Shri Hareet Shukla, IAS, Commissioner of Land Reforms & Ex. Officio Secretary, Revenue Department, Shri Vikrant Pandey-IAS, Collector, Ahmedabad and Shri Jaxaybhai Shah, President CREDAI National, Shri Shekharbhai Patel, Chairman, CREDAI Gujarat, Shri Pareshbhai Gajera, President, CREDAI Gujarat, Shri Tejasbhai Joshi, Hon. Secretary, CREDAI Gujarat,Shri Ashishbhai Patel , President, GIHED-CREDAI, Shri Ajaybhai Patel, VP, GIHED-CREDAI discussed on various issues of revenue and members received satisfied revert from the guest speakers.
More than 300 representative of Gujrat state have attended this event to witness the reforms on-going under the leadership of Shri Kaushikbhai Patel.
GST Saheli web portal for CREDAI Ahmedabad GIHED member
To support CREDAI Ahmedabad GIHED member using GST Saheli web portal and spread awareness about its features for the GST Compliance; Mr. Ashish Patel, President CREDAI Ahmedabad GIHED & Mr. J.G. Hingrajiya, M.D., GLPC have singed MOU in presence of Shri Bachubhai Khabad, Hon. Minister of State, Rural Development, Smt. Monaben Khandhar- Commissioner & Secretary Rural Department.
Presentation by Torrent Power for CREDAI Ahmedabad GIHED
MOU For Gihed Connect Magazine With Navgujarat Samay
On this auspicious day of Ganesh Chaturthi, MOU for Gihed Connect magazine with Navgujarat Samay was executed today for joint publication. Our magazine will now be circulated and sold on the stands soon.
Malegaon delegatation at GIHED CREDAI HOUSE
City Chapter of MCHI, CREDAI Malegaon have organized technical tour to Ahmedabad for their members and visited GIHED CREDAI House. Mr. Ashish Patel, President exchanged the views about the recent trend and market scenario of the city and Mr. Rushabh Patel explained the technical information about the building. Mr. Deepak Modi, President of CREDAI Malegaon, appreciated the vision and conveyed their good wishes to Team GIHED CREDAI for such initiatives.
Good wishing mtg. held with newly appointed Ahmedabad Municipal Commissioner, Shri Vijaybhai Nehra(IAS) and Mayor Smt. Bijalben Patel
Team Gihed Credai discussed Issues pertaining to Urban Development and city planning were discussed.
GPL 2018
To develop the Fellowship and Sportsmen spirit among the members and new entrepreneurs, 8th Series of GPL Tournament held during 2nd to 16th January 2018 at Rajpath Club. Total 8 teams played 34 Matches including friendly match of GIHED CREDAI Vs CREDAI Gujarat and Kids Match.
Entire tournament was cheer up by large number of members. Final match was played between Ganesh Lions Vs Avirat Avengers. Ganesh Lions won the Campion Title of GPL -2018 with the glorious victory and Avirat Avengers hold Runners up Trophy. Award distribution ceremony was celebrated in presence of august spectators of invited Guests & the members.
Mr. Ashish Patel, President reciprocated whole hearted support of franchises owners for their valuable contribution & welcomed the approach of all players for the fellowship. He also mentioned that, without which we could never run this tournament and get the success. Tournament was accomplished with Gala Dinner and fireworks.
AUCTION
GIHED CREDAI Premier League Franchise Auction held at GIHED CREDAI House wherein 11 developers submitted their bids.8 franchises were awarded out after an exciting auction, in front of large number of members.
GET TOGETHER
New Year members gathering "GIHED CREDAI CONVERSE" was celebrated on 5th November, 2017 at GIHED CREDAI House. More than 700 Members and invited guest actively participated with their family and exchanged good wishes on this auspicious gathering.This years gathering was hosted by Parshwanath Corporation with meticulous detailing done by Shri Rushabhbhai Patel & his family.We wholeheartedly welcome all members for being amongst us and wish them a prosperous new year.
CSR
Heavy rainwater has badly affected our state and disturbed routine life of every citizen. At this juncture, with the support of members we have distributed 10,000 Food packets and under the leadership of CREDAI NATIONAL President Shri Jaxaybhai shah & GIHED CREDAI President Shri Ashishbhai Patel many senior members of GIHED CREDAI & other city chapter Associations have visited one of the worst distress cities Dhanera, Nr. Deesa and on the birthday of Shri Vijaybhai Rupani, Hon. Chief Minister contribution of Rs.71 Lakh was given towards Chief Minister Relief Fund under the CREDAI GUJARAT banner.
MEETING
Meeting with RERA Chairman Madam Manjula Subhramanium Regarding RERA project registration for temporary site mode and available for us for Mock registration.
INTERACTION
To support Make in India Movement, special Interaction session organized at GIHED CREDAI House with Ms. Nicole Lunstead, First Secretary (Commercial) & Trade Commissioner Govt. of Canada and entrepreneurs of our organization. As Canadian delegates were extremely excited in knowing more about the possibilities ahead, a technical tour was also organized to sanitation project, designed and executed by CLEARFORD at Jambughoda site which is first of its kind rural sanitation project.
SEMINAR
A Seminar on Digital marketing strategy" Realty Digital War" was organized in association with Google and attended by over 100 delegates. Motive was to attract the potential property buyers through digital media and reduce the cost of branding and advertisement. Detailed presentation for optimum use of Google tools and adoption of recent trends in digital marketing were made.
SUMMIT
GCCI has organized the Summit and invited GIHED to conduct the technical session on Urban Development and Revenue Department. Mr. Ashish Patel, Vice President shared the dais with Mr. Sharif Memon, President CREDAI GUJARAT, other dignitaries and Govt. Officials. Huge number of GIHED CREDAI members and invitees had participated.
SEMINAR
Seminar on Union Budget & RERA Act-2016 was organized at AMA. Prominent International Tax Advisor-Shri Mukesh Patel, Senior Advocate Shri Sandip Singhi and Senior C.A. Shri Jayesh Sharedalal, Shri Dipak Patel, President GIHED CREDAI shared their views on Union Budget & Impact of RERA Act. Shri Shekhar Patel, Hon. Treasurer, CREDAI conducted the program. More than 400 GIHED members remained present and took benefit of the Program.
MEETING
To support the authorities in policy formation and to create awareness among the citizens about actual status of housing stock in the various parts of the state and the city, joint meeting held with Indian Market Research Bureau (IMRB) and GIHED members. To enable availability of reliable data pertaining to upcoming projects possibilities were discussed with them. This in turn would make more reliable data for decision making Authorities and the property Buyers.
EVENT
GIHED CREDAI always welcomes new entrepreneurs and supports allied Industries and affiliated organization by enhancing the Institutional accord by promoting their activities. In this direction event of ACE Tech fair was supported by GIHED CREDAI. Event was inaugurated by Mr. Jaxay Shah, President Elect CREDAI, Mr. Sharif Memon, President CREDAI GUJARAT, Mr. Dipak Patel, President GIHED CREDAI and other dignitaries.
EVENT
To recognize the dedication of prominent developers and professionals towards the Real Estate Industry and services, 8th edition of Realty plus conclave 2016 & Award Show was organized by Realty plus. To strengthen the relation with distinguish institutions GIHED CREDAI has always supported such activities and programs. Many prominent developers of the city, including GIHED CREDAI members were felicitated.